Proudly Welcoming New Clients!
Welcome to Orchards Veterinary Clinic
For all pet-related needs, Orchards Veterinary Clinic is pleased to service the Vancouver, WA area. Dr. Eric Atwell, a licensed, experienced Vancouver veterinarian, runs our veterinary clinic and small animal hospital.
Our veterinary staff is dedicated to helping our clients provide their pets with the proper nourishment and activity to keep them healthy throughout their life. We keep up with the latest advances in veterinary technology while keeping in mind that every patient checkup, operation, or surgery needs to be performed with compassion.
Complete Veterinary Care in Vancouver, WA
We are your trusted partner in veterinary health and wellness and are committed to providing the best veterinary services and preventative care for our patients. Whether your pet needs a routine wellness exam or advanced veterinary care, our skilled veterinary team is here to help.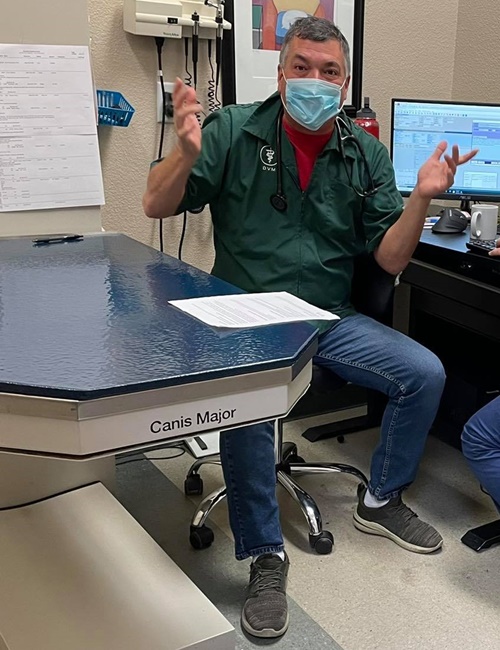 Meet Our Veterinary Team
At Orchards Veterinary Clinic, we believe in providing high-quality veterinary care for your beloved furry friends. Our experienced veterinarians and support staff are committed to personalized service and compassionate treatment for every animal that comes through our doors.
Dr. Eric Atwell D.V.M.
Dr. Eric realized his passion early in life. As a young teenager he began to pursue a career in Veterinary Medicine and started working at Orchards Veterinary Clinic. After graduating from Washington State University with a degree in Animal Science, he attended Veterinary School at Mississippi State University. Dr. Eric's favorite part of being a veterinarian is seeing the bond and love people have with their pets and working with his talented staff. Dr. Eric enjoys meeting and developing friendships with his clients and their pets. As a Northwest Battle Buddies Board member, he supports the organization by taking care of therapy dogs in training that will be matched with war veterans suffering from PTSD. Dr. Eric's favorite hobbies include fishing, hunting, and enjoying nature. He also loves spending time at home with his large family, which includes June, the excited black laborador, and her four sisters. Other pets include Barry the wise cat, two large horses, and two miniature horses.
Thank You for All of Your Kind Words
Your kind words mean the world to us, and we're so thankful that you've taken the time to provide us with feedback.
My dog Feebe was bitten by a raccoon early yesterday morning. The emergency vets were backlogged for 48 hrs. I took Feebe in this morning at 8 am with no appointment. Dr. Eric saw her right away and took care of her. Thank you so much.
I have brought all my animals to Orchards Vet for about 15 years. We've been through good and bad times. The staff is heartfelt during the sad and very responsive in an emergency. Thank you for being an awesome friend to our fur babies.
The Vets and staff are lovely here. I have been bringing my babies here for many years and will continue to many more. Thank you for all the kindness and compassionate care you have shown my poodles and me.